Ferrari Rasigan - Scene 8

Narayanan,
Nandita and their baby daughter 'Pooja' are at the terrace of their house.
Sakthi and Priya reach there along with their son 'Ajith Kumar'.


Priya: Nandu sunidhi invitation kedachudha?
Sakthi and Narayanan look at each other and smile

Nandu: Haan

Priya: Engaloda college friend, Sunidhi Singh. Punjabi ponnu. Delhi la kalyanam

Sakthi:Eppo?

Nandita: Nov 1st
Narayanan: Adada. Formula 1 season october la mudiyum. Indha varusham race cars ellam inga
anuppuvaanga. Ennala mudiyadhu. Neenga poittu vaanga
Sakthi: Naanum varale. Naana thaniya kashta paduvaan. Naanga rendu perum inga irukkom.
Neenga poittu vaanga. Kozhandhaingala enga amma paathupaanga
Priya: Theriyume. Ippadi edavadhu pannuveenga appadinu. Taj mahal polaamnu nenachen theriyuma.

Sakthi: Taj mahal. polaam. Adhukku munnadi naama keezha polaama? Naana thalai aa konja neram paathukariya?
(saying This he winks at priya and puts his hand around her shoulder. Priya shows false
anger and moves away from him)

Narayanan: Adhu ennada un puLLaya eppo paathalum thalai nnu koopadre?

Sakthi: thalaichan puLLa da. Varungaalathula periya aaLa vara poaraan paaren.Seri naalaiku ungalukku Tamilnadu express la ticket vaangidaren. 28th anniku kelambina poadhum la?
Priya: Haan poarum poarum.

(Scene change. Camera focuses on the clock, in chennai central station.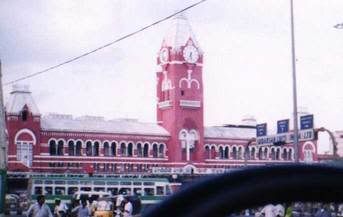 Sakthi: Jaagradhaya poittu vaanga. Night window close pannidunga.

Nandita: Neenga kavalaye padadheenga.

Priya: College time kku appuram ippo dhaan indha madhiri trip

Narayanan: Engalukku konja naal nimmadhi (telling this he laughs and nandita pinches him)
(Train starts moving)
Priya kisses sakthi on his cheek and says Ajith a jaagradhaya paathukoanga
Cut and Pasted by F e r r a r i
at
3:44 AM
|