Bloggers Meet - Location
Now that some more people(apart from me) are interested in this meet, lets really plan for it :-D
Where shall we meet? Besant Nagar Beach is a vast area. So where?
Lets meet here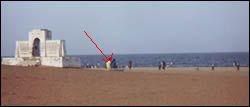 The place identified by that red arrow :-) Please be there by 6.30 PM IST(Indian Standard Time, not Indian Stretchable Time)
OK?
P.S.
Code word for the meet.
Question: Sarakka indha kaila irundhu andha kai kku maathina enna aagum?
Answer: Sarakku namma kailaye irukkum
Cut and Pasted by F e r r a r i
at
6:59 AM
|