Happy Married Life!
Sports editor for this blog, my ex-room mate and most importantly my dear dear friend Maverick is getting married today/tomorrow. So this post is a heartfelt wish for him and his heartthrob.
Maverick machaan. Happy Married Life!
Thangamanai enjoyyyyyyyyyyyyyyyyyyyyyyyyyyyyyyyyyyyyyyyyyyyyyyyyy
Cut and Pasted by F e r r a r i
at
9:24 PM
|
Mobile Browsing Rocks!
I have this Nokia 6230 and Hutch GPRS Connection. It is amazing how much
technology has improved. There are so many mobile sites, which really helps when
you are on the move and at same time stay in touch!
I get to browse sites like bbc,yahoo,rediff,indiatimes,sky sports. Apart from that I can connect
to some streaming server site and listen to non stop music ;-) Send umpteen no
of MMS(free) to buddies.
Yesterday by chance I stumbled upon google wap site. They have a search option called as mobile. For any search string you enter, it will return the list of wap sites.
For the heck of it, I searched on blogger. And I was amazed to find that i can actually create and
edit posts from mobile :-)))))))))))))
More! I can log onto haloscan site and check out the comments on my blog and reply as well ;-)
And I get all this by paying just 99 rs per month. What else do I need?
Here are some good mobile links
bbc
www.bbc.co.uk/mobile
yahoo
http://in.wap.yahoo.com
google
http://www.google.com/wml
Choose mobile web as search option
rediff
http://mobile.rediff.com/news.wml
indiatimes
http://wap.indiatimes.com
sify
http://www.sify.com/mobile
Mobile browsing rocks!!!!!
P.S. Doodle-board is not wap enabled
:-(
Cut and Pasted by F e r r a r i
at
7:57 PM
|
Ferrari Rasigan - Scene 7
Priya and Sakthi are sitting in one side, Narayanan and Nandita opposite them
Priya(Gowthami) takes a spoon of Badam Halwa and feeds Sakthi
Sakthi: Aaaha. Idhu allavo sugam. Oru halwa enakku innoru halwa ooti vidudhu
saying this he starts laughing and priya blushes
Priya: Enna Nandu. Books vaangi tharen sollitaara
Nandita: Haan. Sollitaar.
looks at Narayanan and says "ungaLukku kashtam onnum illaye?"
Narayanan: Che che. No problem
Nandita: Thanks. Seri late aaiduchu. Naan kelambaren
Priya: Naana. avaLa veetla drop pannindungaLen
Sakthi looks at Narayanan and bites his lower lip(no. not like vijayakanth) and smiles with one hand twidling his mush
Narayanan drops Nandita at her home. When the car is about to turn towards New Street, Nandita points to a shop near the road and says
Nandita:Indha kadai la rose milk and mixed fruit juice kedaikkum. Romba tasty and romba famous
Narayanan: Oh. Vandhutaa poachu
Drops her at home, waves bye and comes back!
Narayanan lying down at the mottai maadi of house. White veshti and white munda banian. He has folded his hands behind his head, and one leg on top of other.
Looks at the sky and moon. Gentle breeze at background.
Suddenly it starts drizzling and one rain drop falls on narayanan's face
Song: En mael vizhundha mazhai thuliye
Narayanan reaches the ground floor while singing the first stanza
ennai ezhuppiya poongaatrae
ithanai naaLaay engirundhaay?
Next stanza. Nandita, watches the falling rain from her house window and starts singing the second stanza
maNNai thiRandhaal neer irukkum en manadhai thiRandhaal nee iruppaay
Location shift. Kodaikanal. Full greenery. Narayanan wearing white and white slowly keeps walking.
Nandita is wearing a dark blue saree, holding his hands and keeps walking alongside him
ilaiyum malarum urasugayil
enna baashai paesidumoa
Cut and Pasted by F e r r a r i
at
7:48 AM
|
Ferrari Rasigan - Scene 6
Narayanan(Nasser) is doing some repair to the car. He is below the car.
Narayanan: Yaarunga? Yaar venum?
Nandita: En peru Nandita. Priya oda friend. Neenga dhaan narayanan aa?
Narayanan: Aaamam. Priya innum hospital la irundhu varaliye
(Telling this he gets up and has a closer look at Nandita)
Nandita: Naan ungala dhaan paaka vandhen
Narayanan brings 2 chairs from inside. And both of them sit near the car. It is around 5 to 5.30 in the evening and sun is about to set
Nandita: Enakku indha western fashion mela romba interest. Fashion designing appadina ennakku pidikkum. But inga adha pathi endha information kedaika maatengudu
Narayanan: Naan oru mechanic maa
Nandita: Illai. Neenga Italy poi irukeenga appadinu priya sonna. And regular aa italy la irundhu ungalukku spare parts varudhu appadinu sonna priya
Narayanan: Aaamam varudhu
Nandita: Anga unga friends yaaravdhu irundha, anga irukkara fashion magazines anuppa solreengaLa? Romba kashtam illai appadina.
Narayanan: Paravalliye. Neengalum ennai madhiri dhaan pola irukku
Narayanan: Kandippa anuppa solren maa.
Nandita:Romba thanks sir.
Narayanan: Narayanan appadine koopadlaam.
Nandita: Seri. Naan kelambaren
Narayanan: Un veedu enga irukku?
Narayanan: Irunga. Enakkum anga oru chinna velai irukku. If you dont mind, ungala drop pannalaama?
Narayanan drives the chevrolet car and nandita sits besides him. When they are about to reach mylapore tank
Nandita: Priya ungala pathu neraya solli irukkaa. You are really great.
Narayanan: Ada nee vera. Seri mylapore la veedu enga?
Narayanan: Idha munnadiye solli irukkalaame. Mandaveli post office kittaye right turn eduthu iruppene. Seri parava illai
Nandita: Ungalukku ippo romba neram velai irukka?
Narayanan: Illai maa. Sakthi yum Priya vum varen nnu solli irukaanga. Avanga kooda Karpagambal mess polaamnu irukken
Neeyum vaayen. If you dont mind
Nandita: No problem

Camera focusses on Karpagambal mess. Someone drops the plate and it keeps rolling....

INTERMISSION



Scene 7



Cut and Pasted by F e r r a r i
at
4:49 AM
|
Interesting Article
I read
this
interesting and at the same time highly highly exaggerated article.
I dont agree with this author on certain things. Hinduism is not a religion! It is a way of living. And nothing will happen to it just by some misguided souls(Read it as people who try to forcibly convert poor hindus). And no government or even a superpower for that matter can do anything for Hinduism to lose its charm.
P.S. I am not a secular guy. I think secularism in India='Abuse Hindus and their faiths, ridicule them'.
Cut and Pasted by F e r r a r i
at
12:24 AM
|
Unanswered Question - 1
A new section from now on. I will ask questions for which I dont have any answer ;-)
I was watching this movie 'Punnagai Desam'. In one scene, the hero will start getting hiccups and people around him will say 'Someone is thinking about you. Hence you are getting hiccups'
I have heard this from childhood. If I get hiccups, then it means someone is missing/remembering me. Wow!!
Thats okay. Once in a while I get hiccups and think that my mom or dad or someone from my family is missing me. But I was wondering about people like Maria Sharapova, Anna Kournikova, Aishwarya Rai and all. Since they are global figures(?) will those people be getting hiccups round the clock 24*7*365 ???
Cut and Pasted by F e r r a r i
at
5:17 AM
|
Kisna - Movie Review
First time I am writing review and all. I dont know what is the format and how a review should be written. But one thing for sure. I wont tell you the story!
Movie is good. It is definitely worth watching. It is a period film with most of the action taking place in the year 1947. The movie has the backdrop of Independence struggle and hindu-muslim riots. But movie has nothing to do with these sensitive subjects.
Nothing new or out of the world stuff. A normal love story, but told in a different way. This is one of the better period films that have been taken. Subhash Ghai has done of lots of research and that shows in the movie. Right from the cars used by britishers, costumes etc etc.
Movie is shot in uttaranchal and the scenic beauties are wonderfully captured by the camera. Editing could have been far better. At times, there is no continuity in the movie. But thats ok.
And yeah, it is a 3 hr 35 min movie and it could have been cut short by some 20 mins.
The censor board official who watched this movie, must have been mesmerised by the beauty of the women that he/she actually forgot that a beautiful woman is taking bath, she is not wearing any dress and this should'nt be shown to the public.
The positives of the movie are as follows
Screenplay: The script has been brought out into wonderful frames. A real treat for the eyes.
Katherine (Antonia Bernath): She has acted so so well. It is very hard to believe that she visited India for the first time, whilst shooting for the movie. The emotions she expresses makes you really feel for her. Hats off to you madam!
Music: Right from the title track, Music is so soothing to the ears. Thank god there is no item number. It seems AR Rahman worked for his part separately, and same with Ismail Drabar. Credit goes to the director for bringing the best in both the musicians.
As always, the best track of the movie '
Hum hain is pal yahan
' has not been completely picturised :-(
Apart from that all the songs have been excellently picturised. Especially '
Dream Comes True
' and '
Chilman uthegi nahin
'. If you think that 'maar dala' from Devdas was exotic and rich, then watch '
Chilman uthegi nahin
'. Sushmita Sen is gorgeous. Though she comes for just 10 minutes in the movie, she has done an amazing job. Ismail Darbar would have been very happy after seeing this song.
Same with Rahman as well. This is one of the few movies in which his music has been properly treated and wonderfully picturised.
Kisna(Vivek Oberoi): You really pity the hero character by Vivek's actiong. Vivek has underplayed his role and gels very well along with the story. You see him as kisna throughout the movie.
Action: Hardly there are any fight scenes, but Tinu Verma has done a wonderful job.
Now comes the negatives
Lakshmi(Isha Sharwani): No idea why she is in the movie. She looks more of a gymnast than a dancer. She bends her legs and arms in all possible directions. And at times she holds a rope and hangs upside down from the tree, to show her love(??????????????????) for Kisna. She would suit the role of Tarzan's girl friend. Having said that, she is very very very very beautiful and cute. Has expressive eyes and dances very well. But she seems to be a misfit in the movie
Editing: Could have been far better for a movie of this magnitude
As I said earlier, this movie is long by about 20 minutes or so.
But definitely worth a watch. You will not regret it. And remember, you watch this movie in a movie hall with dolby and digital effects. You might not get that much impact if you watch it in a normal theatre or VCD!
Cut and Pasted by F e r r a r i
at
2:41 AM
|
Have you had this?
Last weekend, I saw this shop at Marina Beach Chennai. They were selling
Sand Witches
Since I am a vegetarian, I didnt try them. Someone try them and let me know how it tasted ;-)
P.S. Happy Weekend
Cut and Pasted by F e r r a r i
at
5:16 AM
|
Stray Dogs!
Bangalore is famous for the number of stray dogs it has. Every street can boast of atleast 4 to 5. This is the maximum in India ;-)
BTW, I observed one thing. Most of the Mumbai stray dogs are white (Will blog abt it later)
Coming back to the topic, till 10 PM none of the stray dogs will disturb you. But after 10 pM, change of guards ceremony takes place and the dogs take control of bangalore city. You are at their mercy!!
Many a times when I reach home late, I had to use all my bike riding skills to reach home safely. I found it very tough and demanding after a tough days work at office. Then I came up with this idea.
Every 15 days, I started buying 2 packets of brittania milk bikis(My street dogs didnt like parle g or tiger biscuits) and threw it to the dogs(Stray dogs on my street). Wow. What a difference it made?
When I reach home after 10, all the dogs do bark and do follow me. But expecting me to give them something. Not to bite me. They wag their tails, and sniff my legs.
Try this technique and see how it works :-)
Cut and Pasted by F e r r a r i
at
11:58 PM
|
Way to go Sania!
India's Sania Mirza becomes the first woman to reach 3rd round of a grand slam.
And she sets up a meeting with Serena Williams in Round 3 of Australian Open!!
Way to go Sania! Hats off to you.
To read more click
here
And Serena is in top form :-( See the report
here
Courtesy: Maverick
Cut and Pasted by F e r r a r i
at
8:46 PM
|
AR Rahman on Kisna
Guys,
Check
this
article from Rediff
Cut and Pasted by F e r r a r i
at
4:36 AM
|
Mahabaleshwar
Closeview
Originally uploaded by Ferrari Rasigan.
This is view of the Mahableshwar lake, from Panchgani
Cut and Pasted by F e r r a r i
at
7:55 PM
|
Bharathirajavai Kaidhu Sei
I have always enjoyed the music of the movie 'Kangalal Kaidhu Sei'. Last saturday I had the (mis)fortune of watching the picturisation of 2 songs from the movie.
Song 1: Azhaghiya Cindrella
What a lovely song? I was aghast when I saw the picturisation. This guy vaseegeran would be sitting on a stool with no expressions. All of a sudden Priya Mani will jump from the windows(The original one. Not the Microsoft one) in slow motion. Wait wait, thats not all. Multiple Priya mani's. And all of them will be standing in the room with different poses :-(
Sathiyama no one can picturise this song so badly :-( If alone Maniratnam or Shankar had got this song. cha.
Priya mani resembled a gymnast in this entire song. If you had watched olympics, you would be able to comprehend what I am trying to say. Before a start of any gymnastic event or for that matter even rhythmic skating, the gymnasts move their hand in a synchronous motion. And then they start the performance.
In this song, Priya mani does the same and instead of performing, she walks straight and sits on vaseegaran's lap. Not just once. Many times during the song with different costumes. And vaseegaran will look at the ceiling and sing 'Adi Anarkali'. Aandavaaa
At the fague end of the song, Priyamani will be wearing a red color dress and running on the beach. Vaseegaran will be following her and try to catch her. At one stage he will jump like '

Mohd Kaif running in from the boundary and dive forward to take a low catch

'. And he will hold his hand like as if there is a cricket ball in it and sing 'Adi Anarkali'
Now I am not able to enjoy the song as I enjoyed before :-( The picturisation comes to my mind!!
Enakke ippadi irukke. Paatta compose pannina

AR Rahman

kku evlo kodumaya irundhu irukkum :-((
Cut and Pasted by F e r r a r i
at
9:39 PM
|
Cho the Great!
Yesterday was an eventful day for me. I attened the 35th Anniversary Celebration function of the weekly 'Thuglak'. The meeting was supposed to start at 6.30 PM at Music Academy, Chennai.
My dad who has been attending this function right from 1970 told me that I need to go some 2 to 3 hrs in advance, to get a seat. I along with Desikan,Guru and Praveen reached the place by around 4 PM itself, and was surprised to see a queue. We parked the bike and rushed to the queue. Luckily we got in and got a place to sit at the prime area.
In fifteen minutes, the whole auditorium got filled and people were sitting on the floor, standing behind etc etc.I walked out to drink water. Was surprised to see that many people were sitting on the floor in the lobby in front of a giant screen.
We discussed on variety of things, right from my Nokia 6230 till Hindu Mahasamudhiram(A series on hindu religion by Cho). Desikann who has been attending this meet for quite some years, gave us some interesting incidents that have happened in the past. Time flew away and everyone was looking at the ticking clock
It was around 5.30 PM. Mr Neelu(Neelakantan, who has acted and still acts in many dramas. But many people recognize him as 'Kazhudhai' bagavadhar after one of his famous DD Teleserial) announced 'Due to heavy crowd, we are planning to put up a giant screen in the parking lot as well. So we request the following car owners to move their car a little bit, so that more space is available'. After saying this the car numbers was also announced. Some 10 to 12 car numbers. No one moved :-)After five minutes one person came and announced 'Okay. We announced once. No one seems to move. We are not responsible, if people sit on top of your car and car gets damaged' :-)) Thats it. All the car owners rushed out to move the cars.
6.31 PM
Cho entered for a thuderous applause from the audience. No periyorgale, thaaimargale blah blah stuff. He straight away started 'Like every year, this year also we will introducee you all to the Thuglak team' and he announced all his subordinates in his traditional hilarious manner.
No chairs on stage. No garlands. All were standing for the entire meeting
6.45 - 8.00 PM
Thuglak readers came up with lot many questions like these
Q:'India Olmypics la medal yaen vaangaradhu illai'A:'I think our climate doesnt allow sportsmen to have that much stamina'Q: 'Unga pathirikayile paraparappu illaye'A: 'Aaamaam. Naan jayalakshmi pathiyum Saravana bhavan pathiyum ezhudhalai'Q: 'What is Thuglak's circulation. Any new marketing plans to increase it?'A: '75000. Yaen. Double aaka poreengaLa. Naan shampoo free ya kodutha evanavadhu vaanguvaana? Cho thalai madhiri namma thalayum mottai aagidum appadinula nenaipaan. Vendaam sir. Naan ezhudharadha paathu en pathirikkai vaangina poarum. Naan free ya kodukkara item paathu en pathirikkai vaangina, adhu enakku insult!!!"Q: 'Why Muslims are targetted as terrorists?"A: "Not all muslims are terrorists. But unfortunately most of people who are terrorists are muslims. And I am planning to publish an article on 'Learn Islam' in thuglak"Q: 'ADMK thaniya irukke. Can they win next election?"A: "WHo said they are alone? They have SP Premkumar with them ;-)"
Many such questions, which will appear in next 3 editions of thuglak.
8.00 - 9.15 PM
Cho gave his concluding speech. Amazing speech. He spoke on how DMK is trying to project Dayanidhi maran, BJP's recovery from the defeat, Tsunami, ADMK's rule etc. And he literally ripped Sun TV Apart!!! He cited incidents of they were acting so cheaply. He came down heavily on the media as well. The way they sensationalised Shankaracharya arrest with false facts, just to increase the circulation. He also gave a special mention to the work RSS is doing for Tsunami victims and how all the media is failing to recognise the efforts.And then the most awaited topic of Shankaracharya. He told about the evidences that prosecution claimed and how all of them were fabricated. He citedd the facts, legal acts etc etc. He went a step ahead and claimed Shankararaman as a 1st rate blackmailer. And how the media here is trying to portray Shankarraman as a saint.He also said legally there is no provision for the government to take over the kanchi mutt or appoint their man as peedadhibathy. You should have seen the applause he got when he mentioned this.He says it is a completely fabricated case. And he also said this. 'Sattathin mun anaivarum samam. Shankaracharyar thavira. Avar ellarayum vida oru padi keezh. adhanaal dhaan avaraukku ippadi oru aneedhi izhaikkapatu irukindradhu' then he went on to say how people ill treated him during the bali petition hearing in chennai high courtHe concluded the meeting by saying 'Hindu madham pala jenmangalaai irukkum madham. After all 5 aandu aalugindra oru arasal adhai thurumbalavu kooda asaikka mudiyadhu'
With National Anthem the meeting endeed.
Wow. What a man he is? The guts he has. The courage with which he publicly condemns top political figures. His sense of humour, his timing. He is one of the best orator in India at present.
I am really really proud, that I could see him live and attend his meeting. This i consider as a life time blessing. There is so much to learn from this great man.
Hats off to you thalaiva!!!!!!!!!!!!!!!!!!!!!!!

Cut and Pasted by F e r r a r i
at
12:14 AM
|
New Ferrari to be launched in May 2005!
Here is an
article
from BBC. Check it out! This is going to make this season all the more interesting!
Eagerly waiting for the 6th of March.
Cut and Pasted by F e r r a r i
at
9:16 AM
|
Pongalo Pongal!
I received this kavidhai from Maverick, through sms !!!
Sendradhu maargazhi
Pongiyadhu thai
Pongalo pongal endru
solluvom thai thingaL indru
pongudhu engum pongal
magizchiyil engal kaNgaL
-Innum 2 vaarangalil kalayanam seidhu koLLa pogindra Maverick
P.S. Eppadi irundha Maverick ippadi aagitaane :-?
Cut and Pasted by F e r r a r i
at
9:03 PM
|
Miracles do happen!!
Courtesy: Maverick
All of you might have been receiving a mail, with a pic of this kid!!
And whereabouts of his folks not known etc!
Miracles do happen!!!
PHUKET, Thailand (AP) - A Swedish toddler was reunited with his
father Wednesday, days after being found alone in the aftermath of
the deadly tsunami that swept Asia.
Hannes Bergstroem was found after the waves subsided Sunday and taken
to a hospital on this resort island for treatment. His photo was
posted on the Internet on Monday. The two-year-old's uncle saw the
photo and claimed the boy Tuesday. On Wednesday the child was
reunited with his father, Marko Karkkainen, at a hospital on the
southern Thai island of Phuket where both father and son were
receiving treatment.
Hannes, his face scratched and pocked with mosquito bites, looked
puzzled as his father choked up with emotion.
Despite the joy of seeing one another again, the day was tinged with
sadness and anxiety. Suzanne Bergstroem, the boys mother, is still
among some 5,000 people missing in Thailand. Nearly 2,000 people are
confirmed dead there.
Cut and Pasted by F e r r a r i
at
12:55 AM
|
Check the Cheque!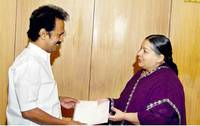 I never thought such a thing will happen in TN Politics! Anyways all for the good. By the way I have a basic doubt. A cheque worth 21 lakhs was given to the CM Relief fund by Stalin. But why is the cheque so big? and why is it laminated??
Cut and Pasted by F e r r a r i
at
7:44 PM
|
Happy Cuddle up day!
I guess most of you must have received an e-card from 123Greetings sometime or other in your e-life. After that so many spam mails from a person called as 'Editor Bob' x(
Today I received another spam mail. The subject of the mail was damn funny. 'Wish your loved ones a happy cuddle up day'. Now what on earth is 'Cuddle-up Day'????
I googled and found
this
Please check it out. It is so damn funny!
How many more days will they invent?
What next? Eat Pulao Day? Download Ringtones day?
Shop
for 3 shirts day?
Update:
Magix
has blogged abt all these days. Check
here
Cut and Pasted by F e r r a r i
at
9:52 PM
|
Kamal's Interview on Ferrari Rasigan
DISCLAIMER: This is an imaginative interview. Sutha thamizh la sollanum naa ellame buruda. Kamal never ever gave such an interview.





Lesaga naraiththa thalai mudi. Red color

Ferrari

T Shirt and Cream trousers. Vidhaysamaana get up il Kamal.
Photo vendaame endru maRukkiraar. Semma jolly mood il irukkum Kamal udan oru vegamaan paetti
'

Oru 55 vayasu aal role enakku. Ennoda neja vayasa vida oru 4 vayasu jaasthi. But enna panradhu. Thalai mudi naraikka maatengudhe

' endru sathamaaga sirikindraar ulaga nayagan
Adhu enna sir title 'Ferrari Rasigan'
'

Director dhaan kekkanum. Indha padathula Ferrari car kku mukkiyathanam kodukka pattirukku

'
'Namma audience kku indha padam puriyumaa?'
'

Satham poattu kekkaadheenga. Producer kaadhula vizhunduda pogudhu

' endru kooRi maRubadiyum sirikiraar
'

Serious aa sollanum naa..Indha padam Ferrari car patriya documentary kedayadhu. Oru paamaranukku puriyum badi edukkappadum thirai padam. Idhu ellar vaazhkayilum nadakkira vishayam dhaan. Pala generation la irukkaravaangaloda aasaigal kanavugal. Oru Azhagaana vegamaana Ferrari car suthi pinna pattirukku'
Neenga Italy naatukku poi irundheengalaame?
Aaama. Ferrari factory kku poi irundhom. Pazhaya Ferrari car oattaradhukaana training eduthukitten.
Naan idhukku maele padam pathi solla mudiyaadhu. Nalla irukaadhu'
'
Unga neja vaazhkayil innum oru peN endru pesikolgiraargaLe
Kamal mugabaavam maarugiradhu.
'

Yaenga. Ennai Kamalahassan endra nadigan aa mattum paarunga. Ennoda personal vaazhkayile enna nadakuradhu appadinu therinjukka yaen ippadi avasara padareenga. Ippo naan Kamalhassan endra nadigan aa illaama oru saadharanamaana manushan aa irundha idha pathi kaeppeengale. Ivlo pesareengale. Ungaloda personal life pathi ellam unga pathrikayile podareengaLa? Yaen indha ora vanjanai. Ennudaya personal vaazhkayile thalaiyida yaarukkum urimai kedayadhu. Paettiya mudichikalaam. Oru kalaignan a kalaignan aa mattum paarunga. Avaroda personal life vachi business pannaadheenga!'
endru kooRi vidai peRugiraar Kamal
Cut and Pasted by F e r r a r i
at
2:46 AM
|
Ferrari Rasigan-Scene 5
Sakthivel riding a yezdi bike. Dark blue trouser and white shirt. Narayanan sitting behind(white shirt and khaki trouser).
They enter Sakthivel's house. 1st floor.
Sakthi: Enna panna poreda? Standard motors la velaikku sera poRiya?
Narayanan: Illai da. En kanave vera. Driving school aarambikka poren
Sakthi: Ada che. L board maatikitu oru car. Adhulla ellarukkum, driving. Kashtam
Narayanan: Andha driving school illai. Formula 1 car oattaradhukku driving school
Sakthi: Paithiyam. India la evlo perukku formula 1 theriyum. Unakku varumaanam enga irundhu varum?
Narayanan scratches his chin and says: Inga Fiat company irukku illa. Avanga boss naalaikku poi paaka poren
Narayanan: Italy la irundhu pazhaya

ferrari

import panna porom. Pazhaya cars
Sakthi: Pazhaya car. pudhu business. nadakkumaa??
Narayanan: Inga paaru. Naan andha pazhaya car repair pannuven. Appuram india la adha test pannuven. Regular reports italy kku pogum. Andha paNam enakku porum
Sakthi: Formula 1 la avlo paNamaa?
Narayanan: Pinna ennada. Infact India is a huge market. Lots of untapped potential here
Sakthi: Seri vidu. Naan endha vidhathula help pannanum
Narayanan: Car vaangina appuram naan repair panni tharen. nee dhaan driver. pala speed la car oatti performance pathi enakku sollanum
Sakthi: English Electric velai vittudaren
Narayanan: Perusu veedu vithuda poren. Tiruvanmiyur thaandi panayur la oru veedu vaanga poren
Sakthi: Andha pottal kaatulaya?
Narayanan: Kadal kku pakathula irukku. Romba cheap. And traffic kammi da. Neeyum priyavum angaye vandhudunga
Sakthi: Enakku prachnai illai. Priya kku anga irundhu mylapore varanum. Parava illai. 19M pidichu varuvaa ava.
(Next scene we show narayanan and sakthi taking delivery of a very old

ferrari

f1 car and bring it to the house at Panayur)
Narayanan also buys an old chevrolet car(the jaanavasam car).
Sakthi in khakhi trouser and white shirt, Narayanan in black trouser and

Ferrari

T shirt.
Sakthi driving the car, with Narayanan besides him. They drive from beach road near Napiers bridge
(Song Endrendrum punnagai starts)
Sakthi in his very own style wears goggles and drives the car in decent speed
(End of stanza 1 and when Rehman sings ohhhhhhhh) the car reaches Queen Mary's college and many girls are on beach road.
Sakthi takes right turn from there and reaches 'Devaki Hospital'.
Priya is waiting. Narayanan gets down and takes the back seat leaving the front seat to Priya.
(Scene changes when the english lyric of the song starts)
Sakthi tickles priya and she blushes. Idhai paarthu Narayanan thalaila adichikaraar.
Car crosses tiruvanmiyur marundheeswarar temple. Priya kovil paarthu kannathil poattukoLgiraal.
Sakthi drops Narayanan at home and takes priya for a long drive. SemmaNN roads. Sakthi puts his hands around Priya and drives the car bit slowly with single hand on steering. Priya tries to free herself from Sakthi's hold. In the commotion sakthi drives the car straight onto a vaikkol poar :-)
Cut and Pasted by F e r r a r i
at
1:17 AM
|
Am back!!!
Colorful-Sky
Originally uploaded by Ferrari Rasigan.
Am back folks! End of vacation . Back to the routine life. hmmmm.
Remaining parts of
Ferrari
Rasigan will be published pretty soon
P.S. I uploaded only 3 photographs, but crossed the upload limit :-( Will upload some more photographs pretty soon and give the links.
Cut and Pasted by F e r r a r i
at
12:42 AM
|
Happy Birthday Thalaiva
ms2001-australiangp-car2
Originally uploaded by Ferrari Rasigan.
Ferrari's Michael Schumacher is preparing for another season of success, this time as the oldest driver in Formula One.
The seven times world champion celebrates his 36th birthday on Monday, confident he can beat the advancing years just as easily as he saw off his rivals in the one-sided 2004 campaign.
"Of course I have the odd small ache or pain every now and then but they are only small ones," said the German, now the 'old man' of the starting grid after the retirement of Frenchman Olivier Panis.
"All in all, I feel very, very fit and to be perfectly honest, much younger than almost 36," he said on his website.
"I play soccer with my colleagues quite often, with people like (Renault's) Fernando Alonso who is 10 years younger than I am and I don't see much of a difference.
"No, I am not getting worn out and especially not psychologically. I still enjoy what I do immensely."
"I'm starting off the new season just like all the others before, with a hunger, fully motivated and looking forward to the fights that lie ahead," said Schumacher, who needs just two more pole positions to equal Ayrton Senna's record.
"I have fun, I love my sport and I love being challenged. The things I've achieved so far have nothing to do with it...In sport, you can't rest on your past victories. You have to take the challenge again and again."
Schumacher, who won 13 of last year's 18 races, has not been in a Formula One car since the end of October and is not due to test until the middle of the month.
To read more click
here
Cut and Pasted by F e r r a r i
at
8:55 PM
|